Dancing in my sweatpants in the middle of the livingroom, ..why not ;)

Easter brunch, which means a colourful set table with fresh OJ, dyed eggs, soft cheeses and hot out of the oven baked buns.

And for the second Easter day we had a cheese fondue party with just the two of us, it's our go-to holiday tradition without having to stand in the kitchen too long.

THE Zara denim dungarees I didn't buy, regretted immensely and then ordered it online as quickly as they restocked it haha.

H&M fittingroom selfie with Pieter's shoes peeking from underneath the curtain :P

Love this bright coloured art section and would love to recreate something similar in our home.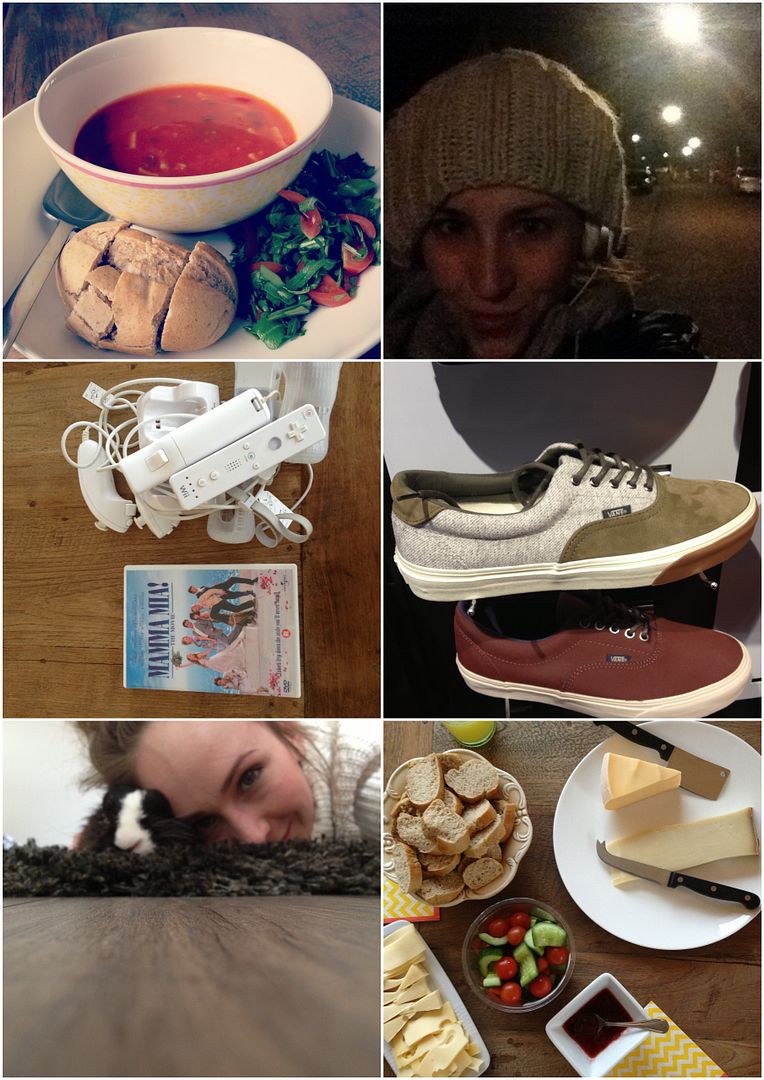 Once a week Pieter has classes till late in the evening so I have dinner by myself, sometimes I don't mind cooking it up for just me but it's also very satisfying having a bowl of soup with some bread & salade :)

Latenight run with my beanie on, it still get's very cold over here after sundown.

An evening with family and friends watching Mama Mia (shamelessly singing along to all the songs!!) and dancing our asses off to Michael Jackson songs on the Wii.

Finally Pieter finds the pair of Vans he loves, but they were sold out in his size.. damn.

Snuggling with cutiepie ZoefZoef, a must on a day of!

Instead of having diner on a Saturday eve, why not put out some tasty cheeses, wholeweat bread and a fresh salad. The perfect snack-like diner for an evening of watching our favourite tv-series.
In the back of our car with sweetie Lianne on our way to go climbing with the boys.

We have a thing lately where if there is only one ray of sunlight, one of us calls for a 'tropical drink'. It's only apropriate for ALL DAYS SUNNY. Even if you only put a strawberry on the side accompanied by some awesome pair of sunglasses, it counts :D

Washing the car, not joking around but I love to do this on a warm day! Who says playing around with water is just for kids?

Us in our climbing-gear, feeling very fierce that moment ;)

The

dark chocolate peanutbutter cookies

you saw

here

in the making.

Having a scaaaary moment at work! One of the pallets holding around 1000kg of fluids broke down in the shelves and getting it out was quite nerve wracking I tell ya!
Ahhh opening the garden doors and soaking up some sun in our backyard.

Yay! We finally took out our mics again and had a very fun karaoke/songpop night. My achy breaky heart, lalala..

Warmer (and dry!) evenings also mean sitting outside with everybody and getting the fire going again.

Love this color by Collistar!

Made some cinnamon buns the other evening, this was a store-bought mix but it definitely made me wanna try some from scratch.

Remember I told you the only shoe-wear I bought at Primark (here)

were some tacky slippers? Well here they are :) haha
A pop of orange for my kings/queensday outfit.

Keeping things veeeery uncomplicated with some fizzy drinks with lemon & having some winegums straight out of the bag ;)

Family tv-time on the couch, bunny loves him some tv!

Wearing my burgundy leopard pants again (for a short while though, somehow they just don't fit me in the right way) OWYES and my new Saltwater sandals WOOOOT!

Making my favourite sandwich once again, how did I ever survive without avocado? I seriously wonder..

Hellyeahh people, it's BBQ season again which means dragging our bbq to our neighbours a few doors down the road (they have more sun in the evening;) and enjoy all the different salades us ladies make while the men grill their meat, haha.
LOTS OF LOVE, DAPHNE
PS.

Check the other TMIC posts right here!