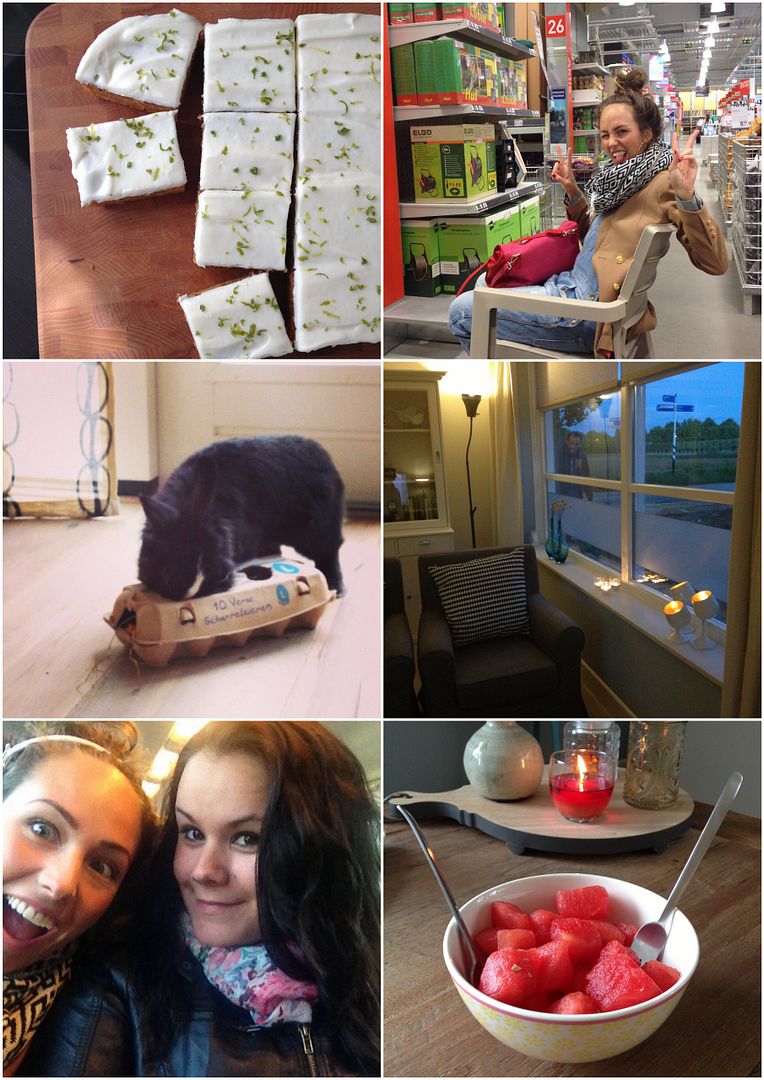 First attempt at making a carrot cake, might need a second and third attempt as wel ;) haha. It wasn't bad, but not nearly as mouth-watering as it should so imma keep on baking!

On the look for some garden chairs for outdoor dinners and bbq's.

This is so cute! I made bunny a snackbox out of an empty egg-carton, cut some holes in it and filled it with hay/carrots/basil/etc. and he just lovvvves it!! He's never that into toys or hidden food type of things, so I'm super happy he likes this!

Love lighting the candles when it get's a little bit darker outside. (ps Pieter just came home after I lit the candles, check him standing out the window laughing at me taking an instagram picture, hihi ;)

After 4 years of being too scared to go by train, I have some anxiety going on and public transportation isn't one of my favs haha, so when I had to go by train the other week I bumped in to my sweet cousin and felt sooo relieved I didn't had to go all by myself ;) Thanks for being at the right place at the right time sweetie!! xxx

Love me some watermelon! Having it here as an after dinner snack with Pieter.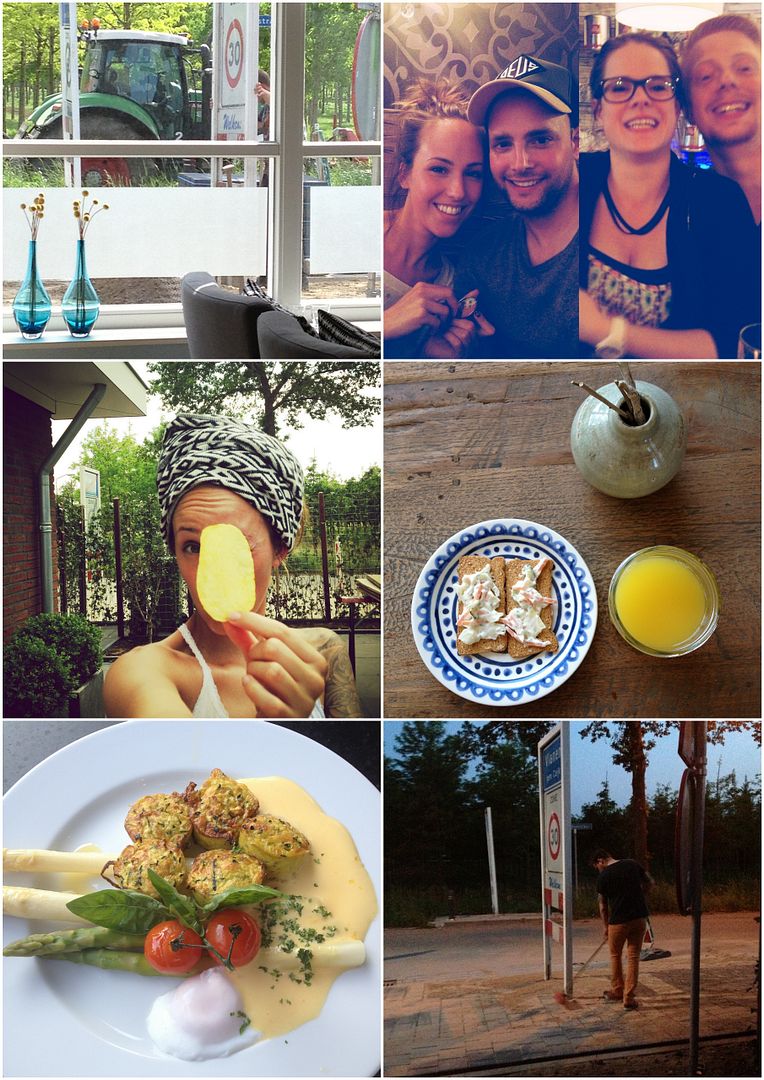 A lot of heavy machinery in our street lately, but they finally finished the pavement so no large sandbox in front of our home anymore yaaayy ;)

Out to dinner and a 3d movie afterwords

in Eindhoven, with

Lianne,

Arnout and Pieter.

Tiny head, or freakishly large potatoe chip?? That's all I'm saying.. haha

Breakfast before work, wholeweat crackers with farmers salad and some OJ.

One of our best friends took us out to dinner and I had some delicious asparagus, verrrry seasonal ofcourse :)

Pieter cleaning our village-sign late at night, yup... that's my mann!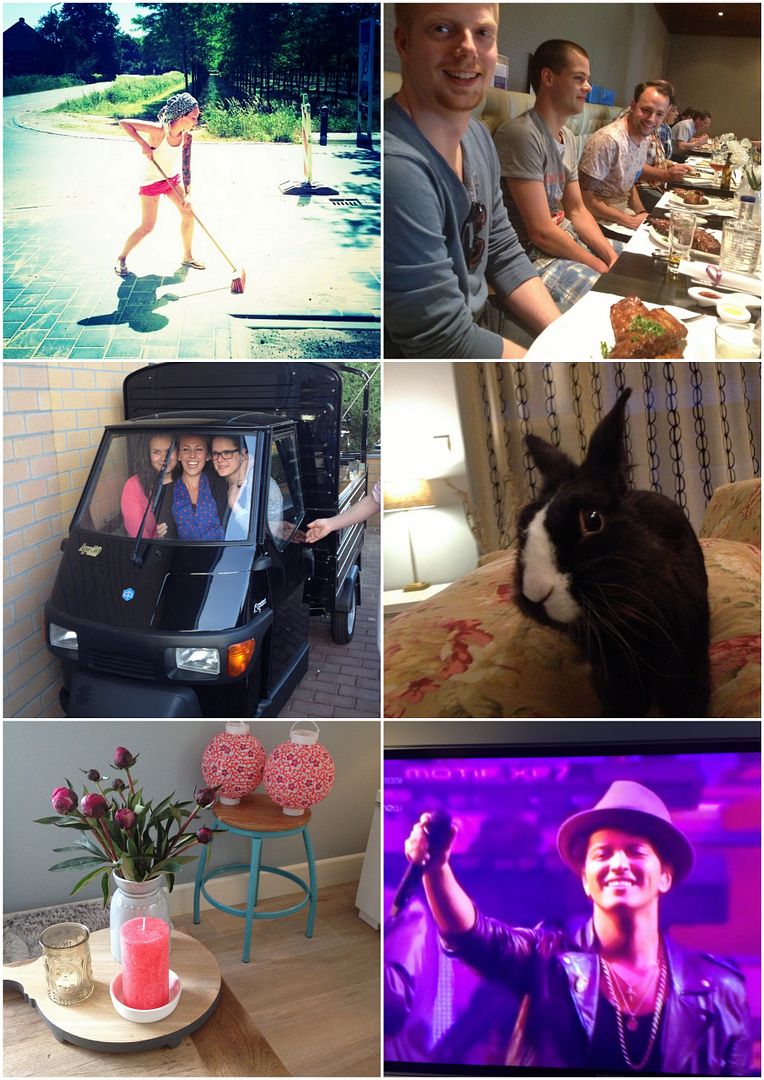 Filling up the pavement with sand (apparently you're supposed to do that yourself, so much for that..;) Not too bad when the sun is out I gotta say!

My grandpa turned 82 so all the family came together to go out to dinner and without a doubt, the men ordered some ribs :))

There was a tiny little barista scooter type of thing outside the restaurant and we just HAD to squeeze all of us in there hihi.

Hiiii mama, whatcha doing?!

Love having fresh flowers in the house.

Having a bit of Bruno going on, can't wait till the concert!!! Aaahhh :D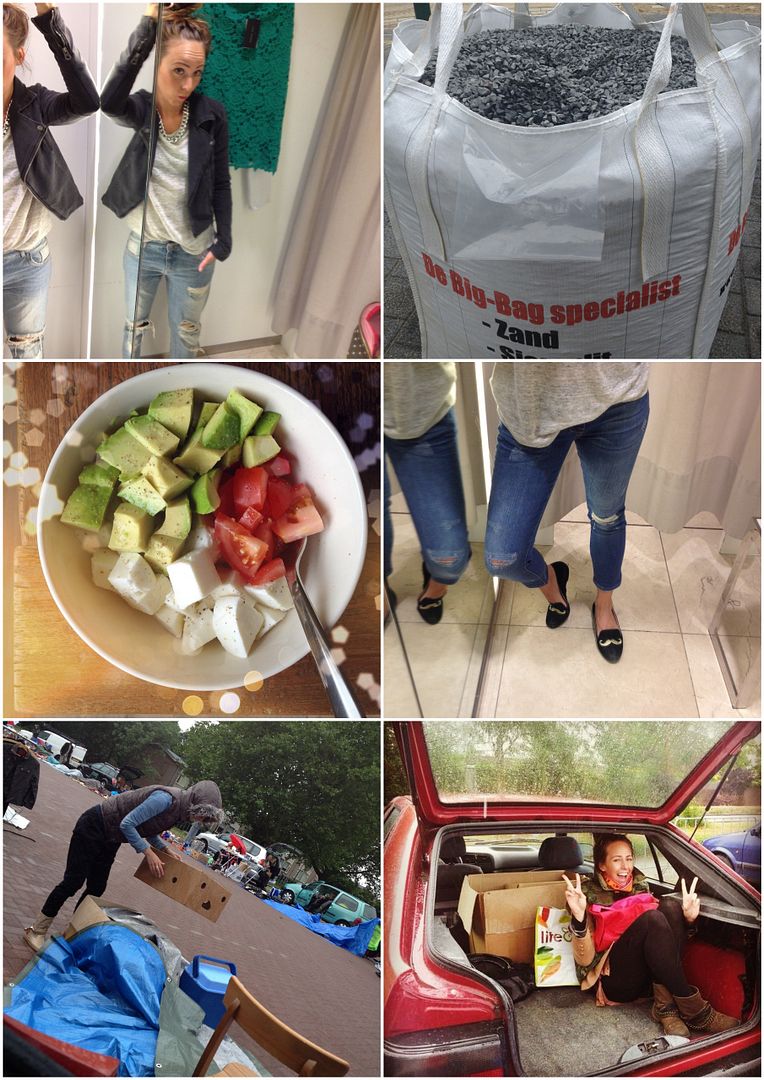 Zara room obligatory selfie ;) and I totally got that green skirt in the background!!

They delivered a huge bag (okay, they say big bag.. ;) of grit for our frontyard, this was followed by lots and lots of scooping that day.

Okay, so I told you about my avocado addiction? It's not over yet! Here a avocado/tomatoe/mozzarella salad with a basic lemon/olive oil dressing, delicious!!!

Still very much regretting not buying these jeans over at Zara the other day 'caus I didn't think they where special enough but I want them so bad right now! (if you come across them, they're the cigarette fit in a 34 please, thank u! :))

Me and my sweet neighbour participated in a carboot sale, it was our very first and even though it rained (A LOT!) we sold most of our things and plan on making this an annual event :)

Sheltering from the rain in the back of our car, still smiling though!
HAVE A VERY LOVELY WEEKEND!
KISSES, DAPHNE