The weekend before our actual holiday started, we drove up to Antwerp with Arnout & Lianne for our annual Sale (solden) trip (here, here & here). Thankgod for the air-conditioning in the car that day, it was tropical!
My new black & white brogues from the Zara sale, yesss :)
First day of our holiday, Pieter turned 29. Happy birthday boo!
Ofcourse I had to make a 'bday' wordbanner.
As a surprise I had Pieters' favourite ice cream place make a birthday-cake for him. Merengue bottom, with caramelised nuts/vanilla ice cream, topped of with a layer of chocolate.That's what I'm talking about, ha!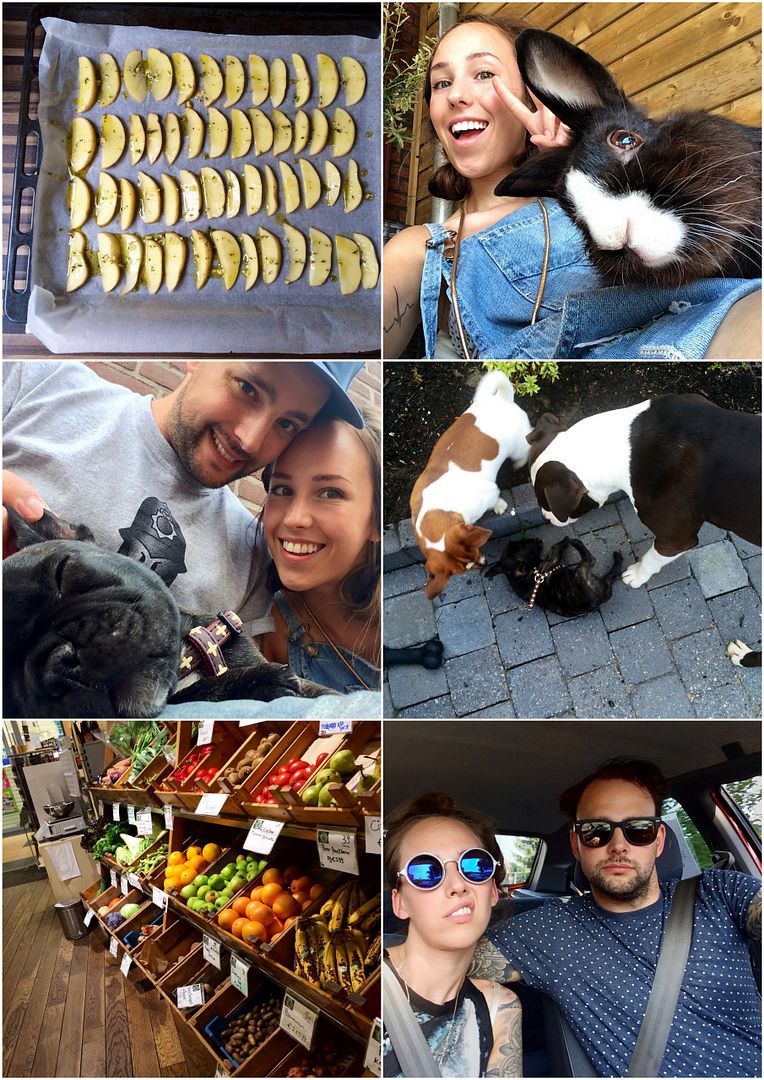 Oven roasted potatoes with skin, some herbs & sea salt. Don't always make time for this, but it's one of my favourites.
I know it's cheesy, but I think it's seriously funny making bunny ears behind my bunny's ears ;)
Selfie on the street with our sleeping puppy. We took her down to the shops in our town and all those people coming up to play with her made her a little bit sleepy after a while, so we sat down and let her nap for a bit.
Playing with Ty and Bikkel, the doggies of our aunt and uncle. So much fun!!!
Discovered this very nice biological supermarket just a 15 minute drive from our home. Such a great interior and lovely products over there. Will be going back again real soon!
Okay, so we were kinda going for a little 'Bonnie & Clyde' vibe over here. All gangsta and stuff. Yeahh, haha ;)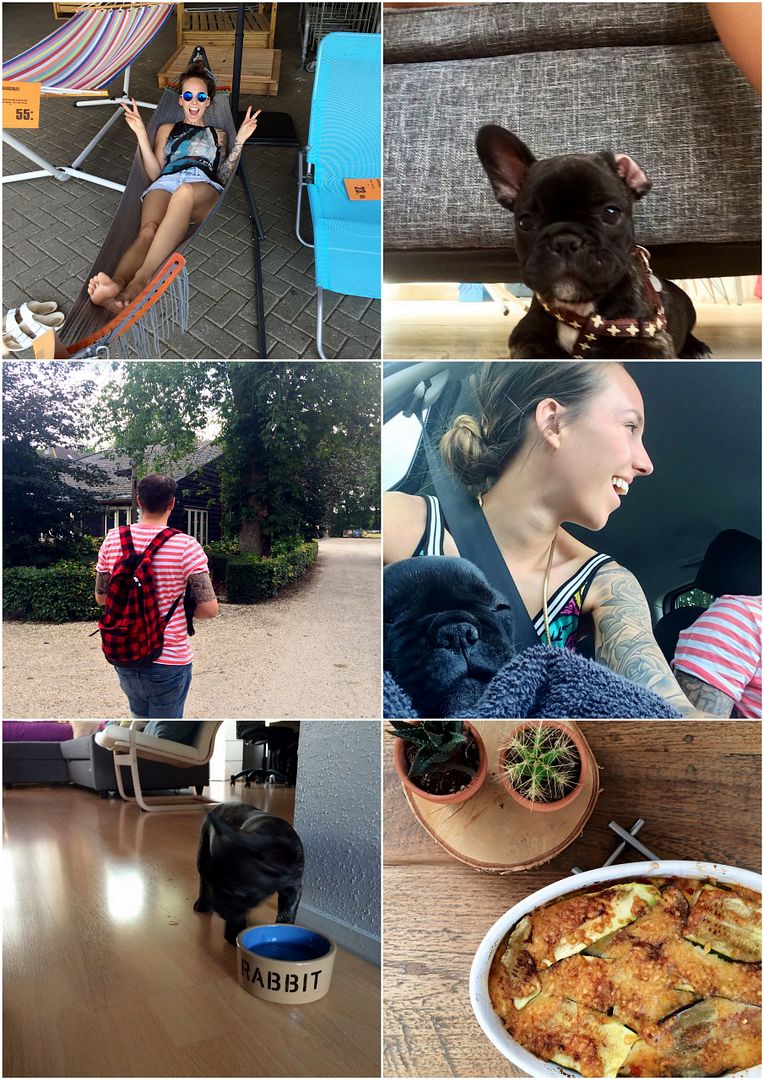 Allllmost bought this hammock over at one our local DIY stores.. and if it wasn't such *shitty* weather over here right now, I still might.
Zoë's tucked one ear to the back - look. Totally hot this season ;)
Checking out wedding-locations, not as easy as we'd hoped. But we're getting there.
Sleeping in the car. She keeps on twisting and turning for about 20 minutes and then all of a sudden, she finds her way and falls right asleep. Zzz....
Auntie Lianne got Zoë a nice big bowl of water when we came over and even though she no rabbit, she could totally pass as one with her perky ears and funny behavior.
Ovendish with grilled zucchini, eggplant, garlic, onions and some goats cheese on top. Bon appetit!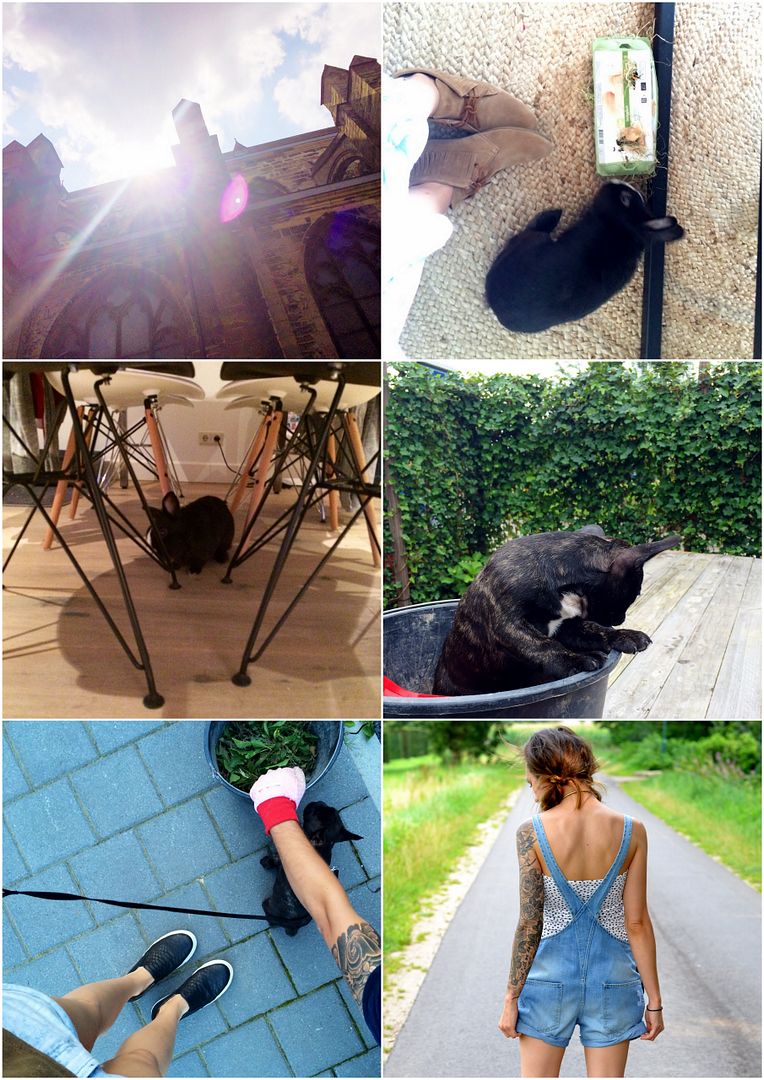 Sunny Maastricht, you were sooo very pretty!
I made Zoef a snackbox again, it's really one of his favourite things to play with. (read = eat all the tasty bits out and then ignore the rest of the box ;)
Hiding underneath the dining room chairs, hoping Zoë can't find him there. She's still a bit too wild for his taste.
No comment for this Zoë in a bucket snap, haahh.
Mamaaahhh, I don't wanna go for a walk when I can play with dad in the garden. (after calling her name in the weirdest high pitched voice for a couple of minutes she finally caved and decided to walk a couple of steps along my side, winning! :P)
Snap from my latest outfit post, sporting my cutoff dungarees.
Finally our outdoor area is starting to come together, it just needs a couple more plants and trees, and we can cross it off our to-do list.
First time at the vet and she actually like it. Yay!!!
Taking a picture for my mom who was watching Zoë the day we went to Maastricht. Hii!
Lunching at Bagels & Beans in Den Bosch with Arnout & Lianne. I loooove their chicken/avocado/sundried tomato salad, mmm :)
The chocolate company in Den Bosch, bought some very delicious dark chocolate & ginger bar over there. So good.
Our final holiday date was going to the movies. We went to see 'Sex Tape' with Jason Segel and Cameron Diaz, it was so funny!!! We were tired as hell from housebreaking our puppy, waking up several times every night and I really had to struggle keeping my eyes open, but haven't laughed so hard in a while. It was truly a good night!